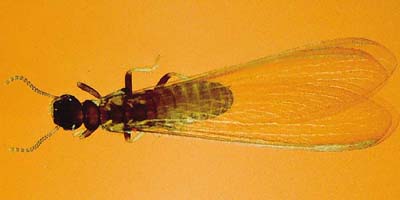 It's termite swarm season! Termite swarm season in New Jersey generally runs from the middle of February into late June or early July. However, termites can swarm at just about any time of the year. Swarming termites may be more prevalent in years where we experience excessive late winter snow-fall or excessive spring rains.
Termite swarm activity is usually triggered by warmer temperatures and the onset of spring.
Spring is also the time of year when winged termites begin to show up in the living spaces of homes. "Winged swarmers" or "winged reproductives" as they are often referred to emerge from colonies during daylight hours usually on a warm, sunny morning or mild-afternoon. Most termite swarms last less than a half hour and homeowners may experience additional termite swarm episodes from days to weeks after the initial episode.
Mating occurs during these flights as new colonies are formed. Termites can be identified by the way they look. Termites, (winged, black insects about ¼ inch long) unlike ants, have no segmentation in their bodies and their wings are the same in length. Homeowners discover that they have a termite problem when they find termite swarmers in their home. The wings break off after swarming.
Subterranean termites are the most destructive and common termite in the state. Winged swarmers, mud tubes and wood damage are signs that you have a problem.. Our Facts about Termites page has plenty of useful information, photo images, videos, and relevant links regarding termite identification, biology and control.
Be Prepared for Termite Swarm Season by watching these The Termite Prevention Tips:
The Solution to Termites:
Have you already noticed termite swarm activity around your home? If so, watch this video to find out about the solution to termites.
---
For a FREE EVALUATION of any TERMITE problem
Call North Jersey Termite at (973) 839-9004 or (201) 337-5009 or send an email to northjerseytermite@gmail.com
A representative will schedule a comprehensive examination of your home or business. North Jersey Termite will do the following:
Set an appointment to evaluate your termite control concerns.
Point out specific areas of concern including visible infestation or visible termite damage.
Outline a treatment plan that will solve the problem(s).
Leave you with a written proposal including a price quote for any treatment we recommend.