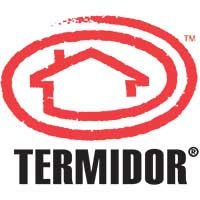 Termidor may be the right solution for your termite problem.
How does it work?
Conventional termite control involves the use of liquid termiticides.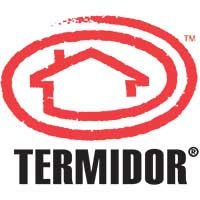 North Jersey Termite provides termite control service for actively foraging termites with Termidor. Termidor is EPA registered and approved, and is applied at very low rates. When your home is treated with Termidor, a "Treated Zone" is established around the home. With the barrier in place, termites can't smell it, see it, or feel it. Since they don't know it's there, they forage freely in a treated area. Termites are social insects who live in large, underground colonies. They feed each other primarily by passing food from mouth to mouth. They also groom each other. They contact each other as they forage for food. And Termidor takes advantage of this social behavior. As well as eating Termidor, a termite will also unknowingly pick it up and carry it back to the colony on its body. Thus, every other termite it contacts, feeds or grooms will itself become a carrier, contacting and infecting others. But because the fipronil in Termidor is slow-acting and allows the termite to continue its normal routine, it remains active long enough to transfer the termiticide to a large number of other termites in the colony before dying itself. This combination of ingestion, contact, and "transfer effect" (which is unique, and puts Termidor in a category by itself) routinely provides 100% termite control. No exceptions.
Is Termidor the best course of action for your home?
Find out now. Contact North Jersey Termite for a free evaluation of your termite situation.
---
For a FREE EVALUATION of any TERMITE problem
Call North Jersey Termite at (973) 839-9004 or (201) 337-5009 or send an email to northjerseytermite@gmail.com
A representative will schedule a comprehensive examination of your home or business. North Jersey Termite will do the following:
Set an appointment to evaluate your termite control concerns.
Point out specific areas of concern including visible infestation or visible termite damage.
Outline a treatment plan that will solve the problem(s).
Leave you with a written proposal including a price quote for any treatment we recommend.